Since I had been around the idler route for just more than a decade and over this time gently evolved a standard lenco to a PTP completely customized item and today the only original parts remaining are the motor and platter !
Earlier thread here.
I did upgrade/side grade my amplification to a pre power and ( LTA MZ2 and Quicksilver) and Phono to a Ear834P . Although I loved the simplicity of a lenco, had an urge to get a little bit more "sophisticated" with a Garrard 401 and started looking out for one and finally got one from an FM having missed out on some sales earlier this year.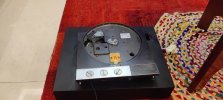 This came with a built in plinth and an 9"SME tonearm but since i already had a 12" Thomas schick, setup a sub optimal tonearm base as a temporary measure and started the redesign of a new plinth. I had to paint this so learnt metal and wood painting and ended with this..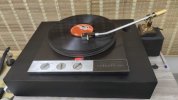 Having connected to several FMs with garrards and plinth experience and a lot of thanks to you all-
@Rajiv
,
@reubensm
,
@G401fan
and
@shafic
. Also got in touch with other experts around forums in the world and finally came down the the original Loricraft skeletal plinth as the best and worked out the right design concept
http://www.adventuresinhifiaudio.com/10/07/2017/the-loricraft-garrard-401-vintage-delight/
was very interesting.
Reached out to resident
master builder
@sadik
and along with him worked out all the details of the plinth design , of the material : 24" birchwood ply, stainless steel pillars and tonearm board. While Covid , my son exams etc etc all delayed and finally last month ended with this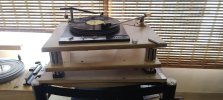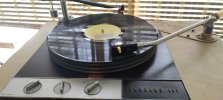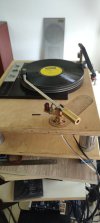 Experimented with a lot of suspensions between the top wood and base and the pillars ie: nothing, Squash balls, O rings, Rubber blocks and in the end came up with half cut squash balls as the best of the lot.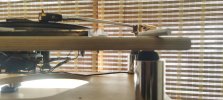 So far the sound is very good. the organic quality of the 401 comes through ..comparatively the Lenco perhaps has lesser noise floor but sounds more modern...
Lots to tweak in the setup to get the sound right.
@prem
and
@Dr.Bass
continue as my helpdesk to get the sound right
A real big shout out to
@sadik
, his understanding of audio as helps in building out such a high quality product in terms of the wood and the finish and precision of the solid steel pillars. They just fit in beautifully and precisely and his ideas around the design were really great.
Last edited: