Joined

Sep 25, 2020
Messages

1,005
Points

113
Location
So what do you do with unused drivers, few parts and materials laying around at home ?
Build Speakers!!!!
Remember the Akai Speakers I redid using completely new drivers
the thread:
https://www.hifivision.com/threads/akai-sw-350s-3-way-design.86827/
The drivers which I had removed were laying unused but had torn cone and tweeters. Decided to redo them and use them to build speakers and give it away. Sent the drivers to reconing. In meantime I was in touch with multiple people for making a box for the speakers, originally thought of replicating the same Akai Design with 3 way crossover. Lot of research and thinking about the cost it was way overboard.
The whole point of making these speakers was to utilize the materials laying at home, I had plywood in various shapes and sizes. Decided to make a open baffle speaker, now these speakers are not for measurements not won't be my reference speakers. Rather a learning curve, cutting ply, priming, applying putty, coloring everything.
Just when I was designing these, I had spare speakers which I got with a Pace 2025 MKII amplifier, consisted of 2 satellite speakers and a subwoofer. Thread:
https://www.hifivision.com/threads/pace-2025-mkii-with-vu-meters.87766/
All the boxes for these speakers and subwoofer were not in great condition. Decided to check how the crossovers look for these including subwoofer. Guess what, the satellite had only capacitor to limit from playing lowend and the subwoofer was used as full range. As I needed something near my desk decided to make OB speakers for desktop out of these too.
Here is some of the journey: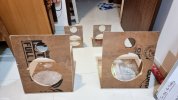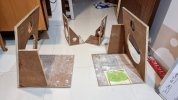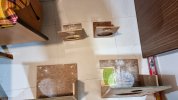 After lot of priming, putty work, sanding and 2 coats of white satin paint.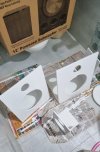 Some fitment testing before drilling holes.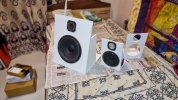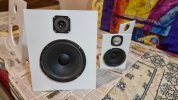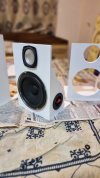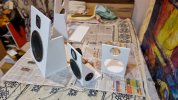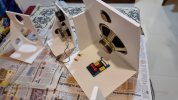 To join the panels I had taken help of my carpenter, but unfortunately I wasn't in town when he took the job and ended up joining all side panels on right side. I wanted left and right so one can use it the way they like.
Got a crossover from Dogesound as the one I had was crap. Thinking where should I place the speaker connectors ? earlier was going to place them on the side panels. Any suggestions?