After a long sojourn (more than a decade), I decided to venture into assembling a couple of amps.
In between, I had built some amps for car audio and had used the cabinets of dead car audio amps that I procured from local car audio installers.
I had also built a few linear power supplies, for which I procured some basic enclosures from the local electronics market, which definitely were not going to work with the amps I was going to build.
The amps I was venturing into needed big heat sinks and sturdy enclosures. This was biggest caveat for me with Covid looming over, so venturing into the congested fabrication sector in Chennai was a big no.
I had been in an audio WhatsApp group in 2017 for a short time and had come into online contact with one Mr. Selvakumar (no idea if he is a member in hifivision) living in the outskirts of Chennai. He was into making amps (mainly pro audio) and was the first designer and supplier for the IndiQ company (then it was called AudiQ I think) in Bangalore.
I got in touch with him and he referred me to a couple of local fabricators, but nothing seemed to move as mobility was an issue and I was getting stuck.
I did notice couple members in hifivision supporting the DIY community by providing enclosures and none was in Chennai.
Even as I was mulling over, I got an order to build a professional grade switcher (amp or speakers) for a friend for which a good quality enclosure was paramount. As it was an urgent need, I had to take a decision.
I then decided to approach Nishant ( hifivision handle
@Beginner_N
) based out of Pune.
We clicked off instantly and he was extremely patient with all my long drawn queries and guided me with elan as he understood my requirements of the enclosures for both the amplifier and the amp switcher.
He was affable and kind enough to arrange for heat sinks also from a company in Bangalore.
After understanding my requirement, he did all the communication on my behalf and got the heat sinks directly shipped to himself, and I sent him the fully populated amplifier boards and other fitments, so that he can accurately drill the holes for exact fitment.
Through out he never asked for even a penny advance, even after I insisted, though I was a first timer for him.
As the amp switcher was a priority and was a less complicated affair, this was shipped first.
The fit and finish was top class and was of the exact specs that he had specified.
My friend was also very happy with the build quality of the enclosure.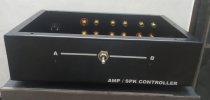 In between, he also had some family commitments forcing him to travel between Pune and his hometown.
In spite of this and the Covid situation, Nishanth kept me continuously updated about the progress and the enclosure was shipped soon, again the quality was top notch within the price band I had given him.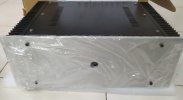 Now I have received order to design one more switcher for which I have placed an order with him for the enclosure, and hope to receive it soon enough.
For members looking for enclosures to build amps, preamps, DACs or any such, Nishanth
@Beginner_N
should be one of your choise destination.