Joined

Jul 21, 2018
Messages

271
Points

43
Location

I know this might be a little late.
Keeping aside the QC issues, I feel Harman did a nice one with K371bt. At the current price point on Amazon Rs 6900/- , this headphone is very very VFM with the almost reference frequency response. (It has a little more bass extension…..but I, personally am loving it).
I was hunting around for a headphone which would match with the reference harman curve. Recently a DAN CLARK STEALTH was launched which used metamaterials …. with excellent measurements and a curve with the best compliance to reference. It piqued my interest …..but the price was beyond my budget. I started searching around
any other headphones
which measures almost as good as the Dan Clark Stealth.
I was hoping an audeze/seinheisser/ audiotechnica would be
that affordable one for me.
But I was surprised each of the many models of headphones which I studied were with compromised curves. Now I am in a dilemma - I don't have opportunities to audition. I have Amazon but returning the ones not suiting my taste would mean a lots of headphone to buy and return.
So I had to rely on a objective measurement which will reflect the performance of the headphones.
(Going by my experience with well measured DACs within my affordable budgets, I am convinced I would like a well measured headphone. I liked my Sabaj……and now my Topping D90se)
Then AKG K371 came into my radar from a comment in a forum. I was intrigued. I started hunting why it was popular and what were its measurements. Imagine my surprised to see it has almost a compliant curve with reference except for more sub bass extension…..and some distortion which was within acceptable level (for me)
The many reviews and issues especially QCs with this headphone was a bit downer…..but the price currently in Amazon was too good for the performance.
Compared to my Hifiman Sundara, the soundstage is little narrower. But the bass is excellent. I was checking it using my Sabaj D5, NX4 dad, D90se…..I just love how it sounds. Listened to my DSDs, and the hi-res flac - simply love how Pink Floyd sounds.
Some of forum members must have already owned this headphone. Just wanted to share my experience. For the money, it's bang for bucks.
The BT is restricted to AAC, but it's not bad compared to my wh1000mx3…..except for the ANC part. I use mostly in wired mode. Apple Music is currently my online source. Using the camera usb kit on my iPad Pro. My offline sources remains my flacs collection ( stored on a NAS).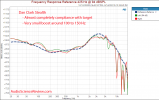 Dan Clark Stealth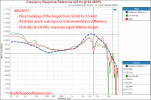 AKG K371 with some flaws but the best curve I could find.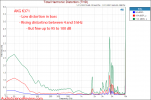 PS: I hope members won't mind me share these graphs from other website. (Otherwise mods can do the needful). The graphs are of the K371 non-bt version. The k371bt have the same response.