Joined

Sep 25, 2020
Messages

1,006
Points

113
Location
2 of my apartments house JioFiber Internet connection, good service so far almost no downtimes or any issues.
Good part is that they supply a Jio Setup Box for free, which has HDMI, USB, toslink connections.
Has netflix, prime, hotstar and all the necessary apps.
I rarely used it in my house as found it quite laggy and buggy, I do have a Nvidia Shield connected to the AVR. My other apartment where my parents stay sometimes use it.
Since I got the Audiolab 6000a, I wanted to test the built in DAC, my TV is a Mi TV 4 55 inch the first gen which is a smart TV without a android TV support. I did sideload Spotify and it worked but couldn't setup Tidal, it kept crashing.
Thought of sideloading these apps on the Jio Setup Box as it is android based , but sigh it is not possible. Jio had updated its firmware and not possible now, nor it comes with Spotify.
Searched on google to stumble upon XDA developers where they have successfully installed the following on Jio Setup Box:
1) Jio Firmware with Sideloading possible
2) MiBox firmware
3) Android TV with full Google play support
I was interested in the 3rd, as I could use the setup box as a music streamer when needed and connect it the TV to use as a android TV.
Things needed:
1) USB A to USB A cable
2) sim injector pin, a bit long
3) Laptop or desktop with Internet connection
4) files and tools to flash
I downloaded the tools and installed the drivers, followed the procedures. Tada, Android TV installed and running.
Installed Netflix and Prime Spotify to check all the apps, everything was working as expected. If possible login to whatever apps you will be using on Jio firmware before starting this.
Few things which don't work or clueless
- Casting is still not working, but spotify works without TV turned on. Tidal connect doesn't work.
- Did not try 5.1, DTS is not supported
- Most of the output is 48khz including spotify, SPIDf was from Tv to audiolab, will try to connect a toslink directly.
This is how the screen looks now, this is running on Jio Setup Box.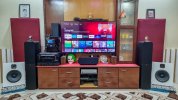 Links:
Disclaimer :- We are not responsible for any type of damage,we are not responsible for literally anything, follow this guide at your own risk. This is only for educational purposes. We need help from a developer for porting twrp and making the...
forum.xda-developers.com
Join the telegram group and use the bot to get custom firmwares.