Joined

Aug 19, 2014
Messages

302
Points

63
Location
Playback legend Mohammed Rafi was always lackadaisical about his remuneration. There is a fine example of this. The actor-producer Joy Mukherjee (Bollywood actress Kajol's uncle) made the film 'Humsaya' in 1968. Unfortunately, it was a miserable flop. But one of its songs, '
Dil Ki Awaz Bhi Sun
' sung by Rafisaab, became a super-duper hit. When Rafi heard that Mukherjee had gone broke from the film's box office losses, he slipped in an envelope all the money he received for his work in the movie and took it to Mukherjee. Mukherjee was adamant that he couldn't accept the offer. Rafi, reserved by nature, thrust the envelope in Mukherjee's pocket and, with a gentle smile, said '
Kabhi Dil Ki Awaz Bhi Sun
' (Listen to the calling of the heart sometimes)...!
Rafi never hankered after money, and for this reason, he had to suffer many losses in the Bombay film industry. When there was a demand for artists' royalties, spearheaded by Lata Mangeshkar herself, Rafi publicly opposed her. His objection statement was that since the artist already gets payment once after recording a song, why should he/she claim a recurring amount afterwards as royalty of the same piece of music? Due to his opposition standoff, Lata refused to sing duets with Rafi for almost three years after that.
Interestingly, in a recent past, when Lata was asked whose songs she listens to nowadays mostly, her straight answer was Bhajans (Devotional Songs) by Rafisaab! Rafi, the perfectionist, tutored himself under a Pandit Ji (Master) from Kashmir before recording Bhajans in the film 'Baiju Bawra' (1952), ensuring perfect pronunciation; such was his commitment to his craft.
Rafi's chief rival was Kishore Kumar. At the height of Kishore's popularity, once he was asked whose songs he listens to, his unhesitating reply was - Mohammed Rafi, and when Rafi was asked the same question, he had said 'Manna da'!
​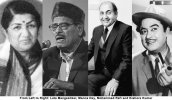 Surprisingly, Rafi sang for Kishore Kumar in seven films, including 'Ragini' (1958) and 'Shararat' (1959).
Rafi recounted that his favourite song by Kishore was '
Dukhi Maan Mere, Sun Mere Kehna
' (O My Sorrow Mind, Listen To Me) from the film 'Funtoosh' (1956). Rafi used to say that nobody could have sung it as Kishore did.
In the late sixties, Kishore finally burst into the scene like a meteor, riding on 'Aradhana' (1969). It seemed that Rafi's unchallenged reign for 15 years under SD Burman's patronage was about to crumble. Even the tabloids were ready to dig the last nail in Rafi's coffin that time. Eventually, Rahul Deb Burman (Pancham) experimented in a song of the movie 'Pyar Ka Mausam' (1969). He made Rafi and Kishore sing the same song in different situations. To his surprise, the ardent Kishore-admirer Pancham saw that Rafi's version became more popular. That song was '
Tum Bin Jaun Kahan
' (Where Can I Go Without You).
Regardless of the tabloids' news, the relationship between Rafi and Kishore was always cordial and friendly. Rafi had such genuine warmth and generosity that it was impossible to harbour any ill feelings towards him.
​

Once HMV decided to release a compilation album of sad songs of Rafi. They needed a photograph of Rafi in a sombre face to put up as the album cover art. Despite digging through archives and contacting several newspapers, they could not locate any picture of Rafi in a gloomy mood. Finally, they published the compilation with the usual photograph of smiling Rafi. The album turned out to be a bestseller as well. Rafi himself was most amused when he came to know about this incident.
It was 31st July 1980, Rafi was on fasting (the holy ritual of Roza) of Ramadaan. He was feeling unwell since the morning; despite that, he was practising a Bengali song for the upcoming Puja record. It was a Shyama-Sangeet (songs devoted to the Hindu Goddess Kali). Without any prior warning, a massive heart attack struck. Within minutes of reaching the hospital, Bollywood's Tansen was declared to be no more. A Roza observing Muslim departed for eternity while singing a religious Hindu song (Shyama-Sangeet) - meanwhile, outside the heavens had opened up in a torrential downpour.
Never before had Bombay seen such rain, but despite that, the day witnessed the largest procession in living memory of grief-stricken men & women that remains unsurpassed to this day. A crowd of at least twenty thousand people turned out to pay their last respects to The man, with rain on their backs. Who wasn't there in that crowd? From Amitabh Bachhan, Raj Kapoor, Dilip Kumar to Lata Mangeshkar, Kishore Kumar, to name a few. Rafisaab's secretary Zahir fainted several times from crying inconsolably. Rafi did all the numerous private charities in Zahir's name. When asked about it, Rafi used to say - '
Denewala main kaun hu? Sab uparwala
'. (Who am I to provide, it is the mercy of God Almighty).
Bandra Masjid didn't have one square inch free space on that rain-soaked evening. Police had barricaded the gates. Even then, people were scaling ten feet of walls and trying to enter the mosque. With torn shirts, shoes and braving cuts across their bodies, an unwavering sway of people were still trying to catch one last glimpse of the Maestro. Even the police gave up after a round of lathi-charge.
​

At this moment, The Statesman shot the famous photograph that appeared on the following day newspaper front page - Rafi's body, covered with flowers, was laid out on the mosque floor and a person was crying holding his feet. That person was none other than his chief rival in life - Kishore Kumar. Wondrously, even in death, Rafisaab's face worn that familiar gentle smile. Close to half a million people of India and Pakistan held fast on the next day. Lahore radio station cancelled all of their scheduled broadcast programmings and played only Rafi songs the entire night, which had to be extended for twelve more hours on public demand.
​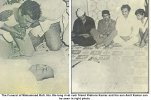 Rafi's planned Puja record in 1980 never released due to his sad demise, but Kishore's did. Lyricist Mukul Dutta wrote a Bengali song on Kishore's special request, and Hemanta Mukherjee composed it for Kishore. It was the ultimate tribute from Rafi's greatest rival and admirer in life. That Kishore song remains fresh even to this day:
'
Se Jeno Amar Pashe Aajo Boshe Ache
Choley Geche Din Tobu, Alo Roye Geche
'
(Feels like he's still by my side / the day has gone, the light has remained)
~~~~~~~~~~~~~~~~~~~~~~~~~~~~~~~~
FM @Bloom@83 and @haisaikat helped me to buildup this writeup. The matter of the writing was collected form another social platform.