Joined

Oct 28, 2020
Messages

755
Points

93
Location
This is all............."
in my opinion
". :
In a prior posting this week, I suggested that when using High Efficiency speakers to enjoy the best possible audio playback,
simply
employ two
PROFESSIONAL
- quality drivers.
A simple TWO-WAY !!
This simply means to
avoid
any and all
commercially " designed
for
the consumer market
" loudspeakers.
For this PROFESSIONAL speaker, EACH driver ( 15 inch woofer and tweeter ) is individually
FRONT
horn loaded, both are naturally time aligned, ( voice coil distance- wise, one to the other ), and
both
drivers must
each
individually be very carefully
compression-loaded
.
Several months ago, I posted on HFV that there are three worthy PROFESSIONAL quality drivers I know of, to recommend.
1) Vintage German Klangfilm PROFESSIONAL speaker systems. Sadly, most were lost during WW II.
2) Vintage PROFESSIONAL use ALTEC drivers.....416Bs, 802Ds, and 515Bs. Happily today, we still have GPA making such drivers, brand new.
These GPAs use ferrite magnets, which are generally superior to vintage alnico models, because of how the magnet structures are
shaped in a superior fashion
, putting the magnetism where it does a better job.
The GPA drivers play louder than their vintage counterparts, and can be usually someone's best driver choice. ( GPA is Great Plains Audio.) I would love to trade for the new GPA 515H model, instead of my vintage ALTEC 515Bs .
3) From Japan, we have ALE drivers. ALE PROFESSIONAL compression drivers are very expensive, and are precision manufactured and assembled on a " parts blue-printed " level. These are fastidious Japanese copies of vintage ALTEC designs. Available new, NOW. Open your wallet.
A single ALE compression driver might cost USD $100,000 each or so,
just an unconfirmed wild guess.
I actually have a audiophile friend who owns a FOUR ALE driver-
per-side
home stereo set up, using Dennis Fraker's Serious Stereo DC SE amps for his home system.
There was a recent audio exhibit in New York City, last month or so, where some PROFESSIONAL quality GPA components were continuously demoed in a ART Gallery exhibit. Many videos are on line. I like JE Lab's write up, because he gives us the actual components used. See it here :
The thing I personally enjoyed with JE LAB's write up was
a) the use of some GPA professional drivers, and
b ) that the exhibitor's SE 300B amp ( LOL, with mis-designed filaments as used in the new Western Electric 300Bs ) was a take off, a homage to Herb Reichert's
Flesh and Blood 300B amp.
Said amp was featured in
Sound Practices
magazine in the 1980s. I personally indoctrinated Herbie into low DCR choke implementations, early '80s. I explained to Herbie how my then-audio Mentor, Robert W. Fulton, taught me immediately that " all chokes have to be 20 Ohms or less " IF " I can find them. "
When Flesh and Blood photos appeared in the magazine, I got to see - what we were
both
using. Not 20 Ohms, but a surplus-priced ESPEY 3 HY at
24 Ohms DCR
choke, which as I recall, surplus, was only $ 6 or 8 USD each - the best I could source then. Fair Radio Sales. Today, we can use two Hammond 159ZAs regularly, as in
L1
/C1/
L2
/C2 to the Finals. The 159ZAs are 6 Ohms DCR each, and it works well. ONLY 12 ohms total in DC Resistance. Good enough to boogie, be on-time, on pulsed music information.
' Back to
PROFESSIONAL
drivers :
In the mid 1990s, I was fortunate enough to buy a vintage ( 1940s ) RCA Movie Theatre speaker set up . I was using RCA MI-9462 " Ubangie Lips " bass horns, had
four
enclosures, used two. It used two 15 inch drivers per front firing bass horn. Owned eight
delicious sounding
RCA MI-9449 15 inch drivers. Used RCA radial high frequency horns. Also collected six RCA war-era Field Coil Compression tweeters, four MI -1428B / and two MI-1443s. Awesome compression drivers, look them up. My four bass horn enclosures were each " cut off ", on one ( of two ) reflex port's side.
Jeff's tube amp knowledge was not up to snuff, in that mid-90s time, VS now. Was doing tubes/ triodes Push Pull rather than Single Ended and Directly Coupled.
In the later 1990s, I had to move to New York City. Not having room, I sold almost all my RCA PROFESSIONAL gear to Johnathan Weiss of Oswald Mills Audio fame. These two SUGGESTED videos will give you a decent background as to these RCA Professional audio components. The eight minute second video is highly informative.
For the last six years, ( 2016-2022) in a small apartment in the MidWest USA, I run a mildly modded ALTEC A7-8 with 515Bs and 802Ds, and my latest DC amp as shown on HFV..........in 2021. My room is 12 by 15.5 feet. A7-8s will work in a one car garage.
I am so very happy. It is exciting and so much FUN to hear and experience now.
Thanks for sharing my journey in audio. Dad started me with the original Field Coil ALTEC 604s, 77 years ago as a new baby. I am still a baby.... just not new. Amazing.
Jeff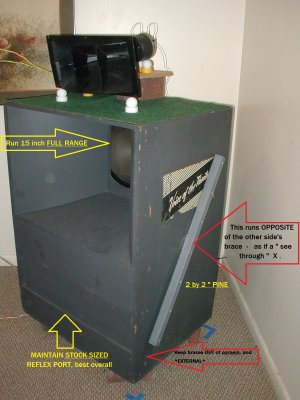 A 15 or 16 inch woofer, loaded into an ALTEC 825 enclosure's
8 inch across
vertical woofer opening slot,
compression loads the 15 inch woofer'
s cone !!!!
How many of you have ever thought ............. about that !!!!!

Both drivers are properly FRONT horn laded, compression-loaded, intrinsically voice coil time aligned, etc.

Honestly. I do not like 15 inch drivers mounted on a flat baffle, ALTEC , JBL, Tannoy, Klipsch ( last two are not PROFESSIONAL drivers ) you name it. None will compare to an A7-8 and this design, at all !!! No offense meant to anyone. It is all IMHO.

MOST ALTEC A7's and A5s I see and hear, are poorly set up, starting with a poor tube amp and wiring !!!!! Unimpressive. 90% of the stock internal fiberglass padding MUST to be tossed away. But not the enclosure. Enclosure plans are on line, with only a few very minor changes being beneficial. WHICH ONES ?? Ask me !
Last edited: