How i voiced my OB speakers:
I acknowledge direct and indirect contribution of the following FMs whose opinion and/or materials helped me to voice my speakers
@drlowmu
- The amplifier schematics and tips on building them, mil spec silver plated copper wires
@yogibear
- 20awg gold plated solid silver wire hand crafted by his close friend
@prem
- recommendations of music - Lata's voice, Nusret Fathe Ali voice, flute and piano used for voicing
@jls001
- recommendations on using male RC connectors - Amphenol
For those who have joined in late, the below link is a recommended reading if you would like to know the precursor to this post.
I have only listened to speakers with permanent magnets till date and have very briefly listened to Alnico magnets speakers at FM @shafic and @prem JBL speakers that use an Alnico midrange driver. There use to be one more type of speakers in the early 1900 and continued for almost 50 years...
www.hifivision.com
A little background for those who have been following my post,
The OB baffle had many iterations since i began building them almost 3.5+ years ago. I had initially planned them to use only a single 8" Russian full range driver which had a resonance of 35Hz and was a high-compliance driver (Model: 10gdsh-1-4 - Build 1955). These drivers were more suitable for a sealed enclosure because of its compliance of the suspension. When mounted on an open baffle lacked the bottom end that i was looking for. This driver rolled-off quickly from around 800Hz @-6dB/octave as there was no support for the suspension from the box. Hence i went ahead later adding a H-frame OB sub-woofer with initially Dayton Audio 10" woofer which had a resonance of 24Hz but the compliance was a bit higher around 0.6mm/Newton. The low end though present was a bit loose not to my liking. I used to cross them at around 150Hz but again there were serious dip between 150Hz to around 600Hz which needed to be addressed.
I was looking for a good mid-bass driver within my budget and stumbled upon the Sachenwerk field coil driver which were from the pre WWII era (build in 1938) which has a phenolic spider on them. This was mostly a mid-range driver having a rising response from 100Hz till 3KHz with a very good cone breakup modes after that. I operate them on 70VDC field energy which is roughly around 5.2watts. This driver addressed the mid-range issue but still not good for the mid-bass from 100Hz to 400Hz region which though covered by my sub-woofer but causing some directional issue. I later changed the driver on my H-frame sub-woofer from Dayton Audio to a vintage re-coned Bolton driver from 1985 which had very low compliance for the suspension (0.18mm/Newton) and a resonance of around 50Hz. This driver gave me the correct tight bass and extension that i was looking for and allowed me to cross-much lower around 70Hz which was not possible with the Dayton driver.
I later purchased an Ahuja 12" woofer to address the mid-bass issue but this woofer was disaster as it was never been able to be driven by my puny 3+ 3 watts DC KT88 amplifier as this was a pro-woofer with high mass paper cone and compliance around 0.3mm/Newton. 2 months ago I replaced the Ahuja 12" with an Clevland 12" Alnico woofer which were salvaged from a church organ build around 1962. In the meanwhile i had also bought an Telefunken 3" Alnico tweeter from FM
@yogibear
2 years ago which were unused due to matching with the other drivers (btw i have been using them now - more about this later)
Though i had many iterations of using these drivers by connecting them sometimes direct and sometimes with an crossover network etc never went ahead to voice them so intensely like last 2 weeks. I had fixed an budget for the voicing which should not exceed 5000/- bucks as anything more than that was not viable for me as it would have been more trial and error.
The Open Baffle design has some artifacts that was meant to cater to the room equations as below,
- The parabolic reflector on both the 8" drivers allowed in early reflections by diffusing the rare waves from them there by simulating the room like an auditorium kind of effect. This has a significant improvement on the mids to upper-mids end by having the right delay between the direct and reflected sound and hence the need of any room treatment is avoided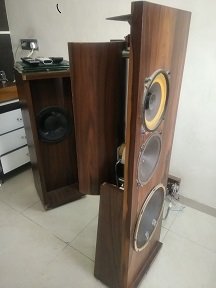 - The Telefunken Alnico tweeter is now added to the vertical plane giving a very good overall directivity till the top-end and a more omni-directional sound beyond 4KHz +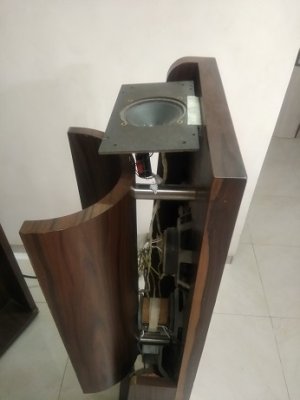 These were the crossover network prior to the voicing 2 weeks ago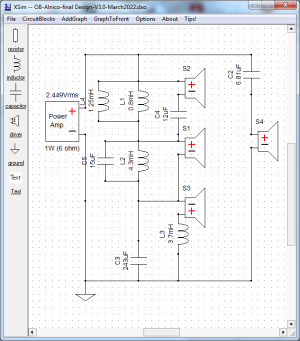 These were the measured response with this crossover 2 weeks ago,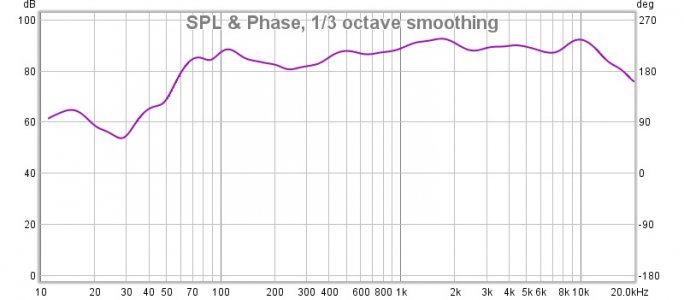 Voicing process followed:
Before i started with correction of the crossover, i was supplied by an extra length of around 3 meter wire by drlowmu primarily to replace the RW20 softone output transformer wires with them.
@drlowmu
believed that the original softone wires were puny (indeed they are) and does not handle transients very well. First thing i did 10 days ago was parallel the existing primary and secondary wires with the mil spec wires supplied by
@drlowmu
. Even with this simple mod, i got a better high-end response, much details and much transparency. Needless to say that - proof of the pudding is in its eating and not waste time debating on the forum needlessly.
I had a goal of having a measured response on-axis within +/- 1.5dB between 100Hz till 10KHz which first needed to be corrected before i could begin voicing. I modified the above crossover to this.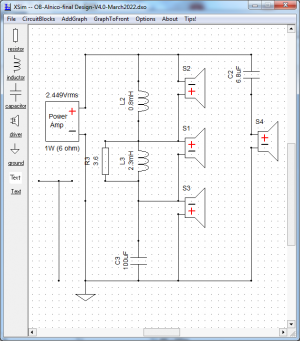 Below is the measured response with this crossover last week after flatenning the response from 100Hz till 10KHz,
While listening to Lata's voice and flutes, i noticed that subjectively they sounded a bit metallic and more sweeter than required. Some flutes (Hariprasad Chaurisa) in their higher octaves were edgy and not natural sounding more like listening to a speaker. I narrowed down this issue to the 100uF, 450VAC Epcos metallized polyproplene motor run capacitor that were used without any bypass capacitor. I replaced the EPCOS with an 68uF, 400VDC Mundorf EVO foil type capacitor. I added a 0.22uF, 250V , 0.68uF,250V Bevenbi MKP and an 0.01uF,100V Wima MKP capacitor across the Mundorf as a bypass capacitor. The capacitor leads were soldered with an extension of gold plated solid silver wires supplied by
@yogibear
. There was a significant reduction in the metallic Lata voice and the flute sounded much rounded off. Still it was sounding like a speaker and i wondered why? I believed it to be because of the 1 meter polycab telephone cable used as speaker cable. I replaced them with a Belden tin plated 12awg x 2 each polarity and found a very good balance in the mids and highs with this simple change. The original speaker wires are 12awg x 2 + 16awg x 1 mil spec wire for each polarity supplied free of cost to me by
@drlowmu
which is Fulton length. But unfortunately staying in a small apartment in Mumbai has its own inherent challenges and to live with Fulton length wires can be challenging with speaker placement. Hence i needed to extend this wire to suit my speaker placement. Here is where the polycabs and beldens come in. I would be happy to replace these with the mil spec wire in the future.
But again some more work needed to be done. I further wondered and later decided to replace the 3.6 ohms Raatronic inductive resistor with something different. I had purchased some manganin wire last year and made a nude wire resistor of around 4.6 ohms with them and replaced the Raatronics. The manganin wires were terminated again by the gold plated silver wire supplied by
@yogibear
. Also i modified the crossover a bit to not have the Russian driver the signature of any capacitor and directly connected them to ground polarity as below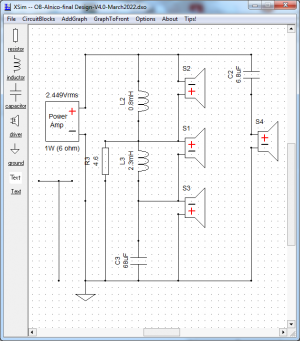 This modification had an significant improvement on the impedance curve and also Lata's voice sounded very natural and the flute was no more edgy or bright and had a very natural decay of its harmonics. I later played some Piano and they too sounded very natural to my ears. As this was an open baffle, they dont have any issue of stored energy releasing later just like a box speaker. So to play Piano naturally was not a challenge due to the open box loading.
I have not yet measured the speaker after their voicing and may do so later as i dont want my subjective listening to be influenced by my measured results. But eventually i shall go ahead and definitely measure them for my learning. By this voicing and crossover modification exercise, my speaker building skills have now improved a percent up from previous 3% to now 4% (can i say this - i dont know).
Thanks for looking.
PS: Yet to purchase the Amphenol gold plated RC connector recommended by
@jls001
Last edited: