After enjoying the outstanding performance of my passive low pass filter using audio transformers in my DAC Chip board, the next logical step was to extend the design in other areas. I was intrigued for building a similar design for a passive phono pre-amplifier. After listening for over a week in digital domain, the most obvious listening experience was the amount of micro-detail lost in the active filter. I don't know if this was because of the op-amp or how the active LP filter is designed or the choice of original components, but neverthless there was a significant loss of information vis-a-vis my passive LP filter (I thank myself for not going for an active filters for my speakers - no matter how huge the temptation was - for similar reasons of use of op-amp and component usages in the filter stage). So my first design criteria will be NOT to use any op-amp in the phono preamplifier.
The phono pre-amp design is challenging as the output from a MM cartridge is quite low (4.3mV for my cartridge). This will require some amplification for the amplifier to drive. Amplification is possible by a op-amp / tubes / transistors. Using tubes was risky as i am not a tube expert and any mis-calculation could be a disaster. Only option left was using a low-noise transistors.
I have already tested the concept using op-amp and they work after 6 to 7 iterations of my RIAA curve. But i still feel the op-amps will be loosing some micro-detail which i am not aware as of now. I have come-up with this block diagram which i will be implementing this week on a bread-board.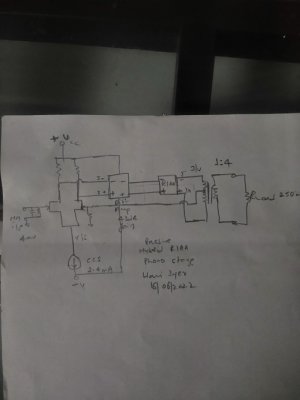 The transistor based difference amplifier will have a gain of around 43dB which will be followed by my RIAA filter. This will be interfaced to a audio transformer for I/V conversion. The feedback to the input will also be routed via the transformer center-tap for a balanced to SE conversion.
Thanks for looking.