Joined

Jan 11, 2010
Messages

41
Points

18
Location
I have owned a home theatre setup for a decade with a fixed set of speakers & have changed AVRs in the order Onkyo - Marantz- Denon. The speakers except the sub-woofer are a decade old. The 17+ months of WFH had helped me to get some spare time to play music, watch web series & movies on my HT setup. I realized the absence of a dedicated stereo setup & as a first step brought a dedicated CD player (Marantz CD5005) & wanted to add a good BS speaker that can be driven by my Denon x3500 AVR for time being until I get a stereo amp. During the quest for a pair of musical BS speakers, based on reviews & auditions I had shortlisted
- Wharfdale 11.2
- Q-Acoustics 3030i
- Mission QX-2
- Elac Debut 6.2
Now it happened to read some really good reviews on IndiqAudio speakers on HFV & learnt about an ongoing group buy with discounts, some goodies & additional warranty. I got in touch with Mr.Amit Jain from IndiqAudio, spoke to him about my requirement, current setup, listening room dimensions. Initially Achals was what recommended by Amit, but I already had Polk towers in my HT setup & didn't want another tower + Achals were out of my budget. Hence settled with Diamond Mishra BS & since I had liberty to choose the laminate color, I chose Amber cherry with black fascia.
July 1st'21 - Saw some extra cash in my salary statement (mid-year bonus), the keeda in my head wanted to use that money for an upgrade to Platinum Achal. Sent a text to Amit requesting for an upgrade before the keeda dies, he agreed for it & the deal was closed in few mins
The hardest part of the GB was wait time, I was bugging Amit for updates & questions on the delivery date. He was patient enough to answer my queries & kept sending updates on the milestones achieved during the production to delivery of the prodcut. Finally on 20th July, I got my Platinum Achals delivered at my place. Unboxing was easy, the protection for speakers inside the box was decent (No annoying thermocoals). The Amber cherry color was looking good in flesh & the black fasica complemented well. Though platinum achals are heavy they were easy to maneuver & they ended up 6' apart as far as my room permit and about 10' from my listening position & 1' feet away from rear wall.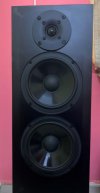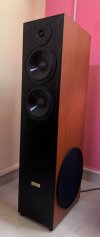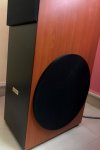 The Setup:
Sony 55" TV ARC, Denon x3500H AVR, Marantz CD 5005, Volumio on Rapsberry Pi 3B+, Khadas Toneboard DAC, YamahaNS-SW300 Subwoofer, Monoprice RCA ICs, Belden speaker cable for LCR.
Started off with Youtube music in stereo mode on TV-> ARC->Denon->Achal.. The first track Le Temp Passe by Michael Jonas.. Man the vocals were so lively, I had to check if my center channel was ON, walked up to the center speaker & confirmed its dead though it is wired to AVR. The instrument separation was beautiful, bass was decent, highs were sparkling & crisp. I was happy getting such an output from lossy Youtube audio formats. Was eager to play HQ sources & was sure that I'm in for a treat.
Achals have sung for about 20 hours till now & I have played various sources like music streaming apps, CD, flac/wav, netflix etc.. The low end output was consistently quick and punchy, the dynamic pieces of song was quickly reproduced through out the listening experience. One such mention is Thanga Thamarai magale from Minsara Kanavu, the dynamic changes in the song was delivered with real impact. Vocal presentation was clear and was uncolored, the two midrange drivers cover a fairly wide segment of the audio spectrum. The lower end of the spectrum is taken care by 10" woofers. Never there was boominess which is common for a rear ported speakers if placed near walls, the bass was punchy & tight. Achals with sub takes the listening to next level, the sub-bass from Yamaha blends with the sound from Achals & they work in tandem. The Achal towers are very transparent & any change in the chain, source is noticed sonically from the speakers. One such notable change observed was after connecting them with Belden cables, there was significant improvement in bass post change. I guess i won't need sub-woofer for general music listening most of the time.
I understand the AVR cannot perform well in stereo music in comparison with dedicated stereo amplifier. Still I am very happy & content with Achal's performance so far. I am excited to write a long term review after the burn in period, pending Audyssey re-calibration & a stereo amp addition to my stereo setup.
Conclusion:
IndiqAudio's Platinum Achal does many things exceptionally well which are musically very important. These includes accurate & uncolored midrange augmented with superb instrument separation & transparent soundstage. I enjoyed listening to music through Achals immensely & joy of listening is difficult to describe. The tracks which are played on Achals so far are those which I might have heard 100s of times in my lifetime, listening them on Achals was musically too involving & perhaps this is the highest goal of any audio equipment can aspire & Achals achieves it. IndiqAudios Achal is an overachiever - tonal purity, transparency, resolution of detail, and imaging is top notch. I consider SQ is at par with the models from reputed brands that costs 1.5x to 2x & with these Platinum Achals earns my highest recommendation.
Regards,
Somashekar
Last edited: