Hi members,
My friend's Marantz SR7005 decided to call it quits. He has spent a number of hours to work on this problem, with zero success.
So, he dumped it off personally at the recycling center (my place).

Now I am going to change track so to speak.

When seeking a replacement, do not buy a receiver. They have always been problem units. Now they have 11+ power amps in them and a ridiculous number of facilities that have no business being in a box like that, they should be given a very wide birth.... however, a receiver with multiple power amps is no longer a proper environment, if it ever was. Manufacturers need to face this and keep the power amps away from increasingly heat fragile chips.

Things have now got to the point where separates are an absolute essential. Now is the time to consider pre-pros and use separate amplification, or at least receiver with pre outs and disconnect supply to the power amps as soon as the unit is out of warranty.

The issue that is hard to get a handle on is whether the build quality of pre/pro is better than a receiver's. I have no data on that, but have a hunch that it is, as so many go to pro installers for high end systems. They are highly trouble adverse as am I.

So, i decided to use the enclosure, power supply, heat sink and hope to build a multichannel power amp someday. I removed the face plate, stripped clean of all the innards, separated the connectors from the boards and put them back on chassis. Here it is, made in Japan chassis ready for a DIY project....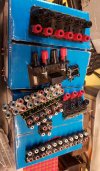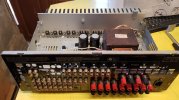 ...