Joined

Sep 25, 2020
Messages

1,006
Points

113
Location
Hello guys,
I got this Pace 2025 MKII integrated amplifier in beat up condition few days back with 2 puny speakers and a passive subwoofer, no idea which brands.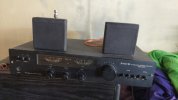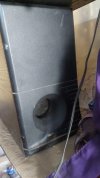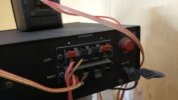 The speaker terminals where broken and left channel used to cut out or not play at all.
I don't know the specs for it, tired looking up on the Internet but nothing.
First thing I did was open it up and started cleaning it out. Lots and lots of dust, webs and small dead insects.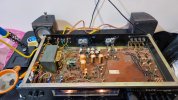 After some cleaning, this is how it looked. Something to look at is this amplifier doesn't have any vents and guess what, no HeatSinks! Transistors are mounted on the chassis, chassis acts as heatsink.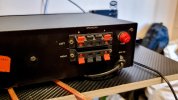 Fixed the speaker terminals and checked if left channel was back, but to my surprise it stopped working completely now! The vu meters also showed no movement on left channel.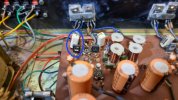 Got my multimeter and started checking all connections and transistors. While cleaning and dusting noticed these two boys were loose.
Got headphones and connected using 6.5mm jack on front, even here the left channel was dead.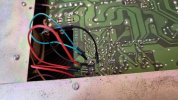 Turned the unit upside down, opened the bkttom part, checked and saw the joints and paths were fried for the above loose parts.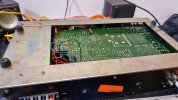 Got wires and replicated the right channel joints. Used some old laying wires. And voala, it works. Left channel came back to life.
Everything put together, connected small speakers to B and Subwoofer to A. Can play both inputs together. Sounds decent.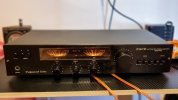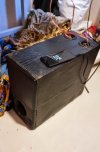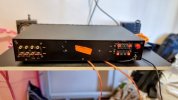 Might use this on my desktop bench where I normally work. Can use headphones too.
Few questions:
1) Don't know the specs of the subwoofer, but amp is not heating much when used. Could it cause any problem?
2) Would be pairing with 3020i or 3010i speakers on desktop, planning to use subwoofer.
Last edited: