Joined

May 2, 2022
Messages

13
Points

3
Location
I'm pretty new to all of this, so I apologise, your help and advice would be much appreciated.
I currently have a new Atmos 5.1.2 setup with a Denon X3700H paired with Dali Oberon 3, Alteco c1 (surround) and SBS1000 Pro, I love it. The .2 Atmos speakers (Dali E80 Ceiling Speakers) are mounted in the ceiling (centre of the room) in front of my listening position for nearly about 30* However, the atmos sounds are not very noticeable.
Going through various forums and research, I came to know how significant a difference could be by adding additional two Atmos speakers that make 5.1.4
I recently had the idea of adding 2 additional Atmos speakers. These would most likely be SBS prime elevation speakers. I would like to use ceiling speakers, but I'm unable to modify or cut my false ceiling anymore.
Can anybody tell me what would be the ideal speaker placement in regards to my current speaker placement and sitting position? The sofa is against the back wall, so there is no option for a rear.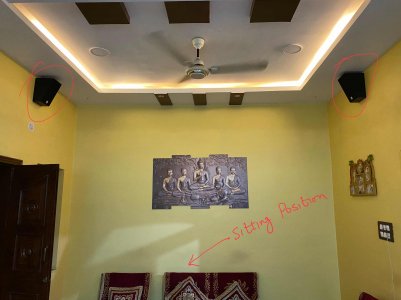 My plan is to either mount the speaker just above the listening position or front height above the TV.
Which one would be the ideal?
The room size is around 13x19 ft and the height is roughly 9ft.
You can check the 3D layout of the room I have attached.