For those who don't know me (most), my name is Shazad, I reside in Bangalore (now) and I've been a member here for a couple of years but not so active posting.
A short post, this one is a combination of my appreciation for Mr Kannan's hospitality towards a budding audio hobbyist and my listening impression of his latest aquisition.
An exchange of a few text messages back and forth, my luck that I had to fly down to Chennai for a day and a very generous offer to accept my shameless self-invite from an extremely kind and knowledgeable gentleman, all came together on Wednesday 26th Jan'22.
I chanced upon Mr kannan's post about his newly acquired Presonus Eris E66 active speakers just a few days ago and this got me very curious about wanting to have a listen to a pair of ACTIVES, not something most of us consider very often but I'm sure this thought is in the back of everyone's mind.
The day arrived, I landed in Chennai, checked into the hotel and wasting no time I was on my way. After dealing with some very demanding Uber drivers and battling Chennai traffic I finally made it to Kannan's duplex apartment that evening. Was welcomed by the man himself and a very sleepy cat "Nandu". We wasted no time and headed straight to his listening room.
The Presonus were sitting pretty on these tree trunk stands, connected to a TEAC preamp. The source was his laptop using teacs own music interface player. The room is predominantly untreated with a carpet covering most of the floor, curtains between the speakers and the wall behind them.
THE PRESONUS WOW YOU FROM THE WORD GO. We played some Jazz, Classical, AR, Coke Studio, the selection of music was pretty random but the Presonus' were effortlessly keeping up.
The speakers are fast, have a sense of timing, image very well and create a soundstage that was quite surprising. This particular room isn't the biggest but that said these speakers could easily fill a bigger room, no sweat. Vocals were reproduced with plenty of emotion and instruments were well spaced with good detail. The soundstage and scale of the presentation created by this pair of actives left me speechless. It's a performance.
XAVIANS:
Soon enough we realised there was a pair of (passive) xavian floorstanders in the room being completely ignored and so we decided to hook it up to Kannan's class A , F7 clone amplifier. Off late I've started to understand what a pure class A amplifier can do to the overall sound in an existing audio chain. The tonality of the xavians driven by the F7 clone was sweet. They definitely sounded a thinner than the Presonus. That said, the music was airy, perhaps just a tad analytical. A beautiful combination but it immediately leaves you wanting more if you're listening to them immediately after having listened to the PRESONUS. This is when you realise that the Presonus did so well in the LF department, there wasn't chest thumping bass at the volumes I was listening at but the sound was well rounded, nothing seemed to be missing.
While I sat in Kannan's seat playing song after song I realised the man was missing but there seemed to be a lot of fumbling and fidgeting going on in the wardrobe behind my seat. I turned around only to find out that I had signed up for a tour. Kannan pulls out his prized possession. "The SPICA" speakers. A rare gem he tells me, I personally have never heard of them, so it was obvious that these were up next.
SPICA:
Ever keep reading about "THE SPEAKERS DISAPPEARED" ?
Well this was exactly that. You could point at the singers mouth.
SPECTACULAR IMAGING, almost felt like my mind was playing tricks on my ears, or the other way around, I'm not sure. These are one of those speakers that make you forget that you were here to analyse them, you simply listen to the music and forget about everything else. Their tonality/sound signature is very different from the other two, unfortunately I don't have enough experience or Knowledge to explain that. The SPICAs bring a sence of crispness to the music, melodious detailed music floating around you. What a treat !!!!
A few hours had passed and at this point in time I stepped out of the chair and told Kannan that we had to stop this madness, else I'd never leave.
He and the misses were sweet enough to walk me to my uber and see me off.
I can't thank him enough for accepting my self-invite, his time, hospitality and the enthusiasm he showed towards what for me was just a casual listen of another pair of speakers. What a fun and exciting evening. I Hope to see him again during my next Chennai visit and if I'm lucky I'll come in early so I get to stay longer
Attached are a few pictures with the man him self, his beautiful speakers and ofcourse the cutest fellow in the house (Nandu).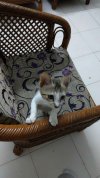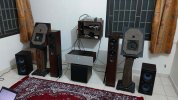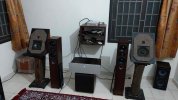 Last edited: