Joined

Oct 28, 2020
Messages

696
Points

93
Location
This .................... is a never-before designed and never-before built tube amplifier circuit.

It is being built to be subjectively evaluated, by listening on high efficiency, large-radiating-surface loudspeakers, such as ALTEC or GPA models.

Up until now, ( in my estimation and opinion ), prior to 2019 the best compromise that could be done for powering ALTEC speakers with 15 inch woofers, was a simple two stage Direct Coupled Single Ended 2A3 amplifier with a " fast " extremely low DCR power supply, all things carefully executed.

In 2019, with the help of my audio mentor, I DIY designed and built a non DHT stereo amplifier, using inexpensive EH KT88s, that outperformed the creme of the crop in DHT 2A3s, the AVVT ( VAIC ) 2A3 mesh plate. How could a $41.00 USD indirectly heated tetrode tube ( operated as a tetrode ) beat out a $500.00 " holy grail " DHT 2A3 mesh plate triode AVVT?

The answer is very simple.
The DIY 2019 KT88 amp had a superior power supply execution.
It allowed the 2019 DIY amp to totally CRUSH the traditional accepted audio " stereotypes ", of

(1) Directly Heated Triode's supposed superiority VS: indirectly heated output tubes,

(2) A triode output stage's supposed superiority , VS: a non- triode, .........a tetrode ( tetrode - four elements not three ) operating as a tetode, with a separate G2 supply for the fourth element.

(3) The need for any Negative Feedback in a non-triode audio amplifier . The 2019 KT88 amp uniquely - had none !!


There was no denying what we heard, all four of us highly experienced amplifier builders present were in full agreement in this 2019 Montana listening evaluation.

What was this " superior power supply execution " in the KT88 amp, that produced such a profound audio performance difference ?

Four things :

(1) The KT88 amp used TWO 5U4GB tube rectifiers, each acting as a single diode, rather than one EH 5U4GB.

(2) B+ filtering to G2 and the plate resistor of the input/driver tube ( Ra ) , was TWO TIMES SHUNTED, one SHUNT after another ........in a series - connection, rather than a single SHUNT.

(3) B+ filtering to G2 and the plate resistor of the input/driver tube ( Ra ) was also TWO TIMES FINAL FILTERED ( as L1/C1/L2/C2 ) rather than a single FINAL FILTER ( L1/C1 ).

(4) The use of GTO caps to bypass C1 and C2, leading to the Output Transformer and Finals / Output tube stage.


The first numbered change above, halved the impedance of the rectification, and provided a wonderful-to-hear dynamic contrasting capability, with greater overall dynamics on musical transients.

The second numbered change above, lowered the impedances of the B+ supplies to these critical circuit points. The DOUBLED / SERIES SHUNTING was audibly superior in it's B+ support of the tubes !!!

The third numbered change above, gave a fantastic resolution to the audio signal, in the very first stage of the audio amp. Any loss of audio resolution / music information, that occurs in the input stage is never ever made up in later stages, is it ??

The fourth numbered change, GTO caps to the Finals, has been fully covered on HFV elsewhere previously.

You would all be amazed, totally amazed, to hear the resolution that a vacuum tube is capable of, once it is given a squeeky clean B+ feed. Unfortunately, no one in audio has seemed to do this, to the degree we have been since the 2019 KT88 amp. It is just taken for granted, and not understood !!! We've always done it " such and such a way " for the last 100 years, WHY should we change, and make the filtering more complex ?

The answer is simple, " because it is necessary...... for highest audio resolution. "

A further thought :

The gain of the Input tube stage in a two stage tetrode amp may be perhaps 35 times, whereas the gain of the Finals / Output tube stage may be 12 times. This gain difference to me, seems to make the Input stage three times more important, as far as having a " squeeky clean " B+, than is the Output stage !!! This three times is ALSO totally irrespective of the fact that if music information is at all " lost in the Input stage " it is never " made up later - in the Finals stage.

- - - - - - - - - - - - - - - - - - - - - - - - - - - - - - - - - - - - - - - - - - - - - - - - - - - - - - - - -

In 2021, on Hi Fi Visions, we have thoroughly documented my next major build, after the 2019 KT88 amp. The Stereo 6005 amp. The development of extensive quadruple filtering can be seen in the following posts, starting early on, on Page 2, Posts 23, 32 and 34. There exists a good summary on Page 3, Post 43. Here it is :



For decades, the importance of carefully regulating the B+ supplies has been ventilated. Alan Wright (actively) regulated the B+ with ripple down to the milli-volt level. I believe VTL also uses stiff, actively regulated B+ supplies.
www.hifivision.com


The only difference between then, early in 2021 on Pages 2 and 3, and later on, is that I reversed the order in a larger new chassis. The SHUNTS were first, and FINAL FILTERS in the last positions, two in series each, four total per B+ feed.

-- - - - - - - - - - - - - - - - - - - - - - - - - - - - - - - - - - - - - - - - - - - - - - - - - - - - - - - - - - - -

I am initially building only one monoblock chassis, which will be listened to in mono, driving pairs of ALTEC VOTT type speakers in two different locations.

In the last week, I have invested well over twenty hours of labor, on a " blank " 14 gauge all-steel chassis with welded corners. Tedious labor with common hand tools. Here is what it looks like, as of 4-10-22 :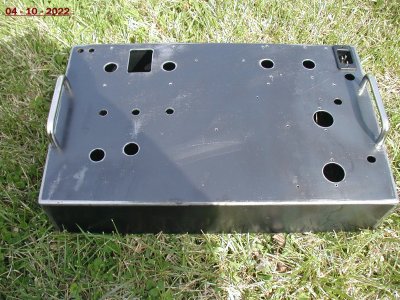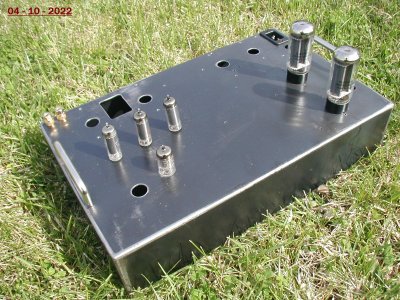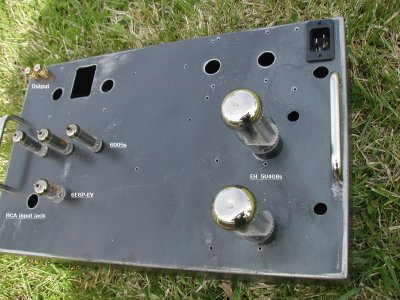 In another post, not here, I will write up all of the highly compelling reasons ( to me !!! ) for building the PFA TRIPLE 6005.

The " reasons" to build this amplifier post should truly put this new design in proper perspective. It is very exciting for us with larger format horn speakers !!!

Thank you for your reading time, and following along.

Jeff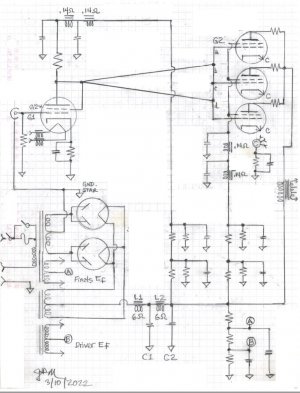 Last edited: