After deliberating for over a long period of time, I decided to move on to active speakers.
Again the choice was to if DIY or get one after auditioning.
There were some suggestions from our erudite members, when a member friend pointed out that his friend had gone gaga over a pair of Presonus monitors costing under 15k when compared to his 50k+ speakers.
A little google told me that Presonus was imported by the company The Inventory from my city (Chennai), but sadly they did not have anything on demo, they are also importers of Kali Audio which was another recommendation from a member.
They redirected to me to a couple of their customers which were all studios and I was not keen on listening in a treated room, but they said if and when they get any returns or any damaged box type pieces, they will inform me and provide an audition.
I realized it was a long shot and not worth pursuing, so started with checking other brands.
In the last week of December, I got a call from a Inventory salesman that one of their customers (a studio again) was selling off a pair of Presonus speakers (a different model) in a buy back deal. When i looked it up, I was pleasantly surprised to note it was a MTM design (which I guess is rare in studio monitors).
I quickly got the number, and when I spoke to the person, he said he was using it only in his house to listen to the mixes he did in the studio.
This was a even more convenient as it would replicate my listening preference for audition.
I fixed a mutually suitable time and went to his place on Dec. 29 with my song collections and listened for more than 2 hours.
The end result was a no-brainer, they sounded to my taste and the speakers were in mint condition.
I paid and packed them home.
So this PRESONUS is my New Year Gift along with ONE MORE FURRY BABY that is keeping my hands full





I am yet to setup and listen intently. After a few days of dabbling as my room was cluttered, they are temporarily back in their boxes as my life has been temporarily taken over by a new member to whom I have given my audio room till his elder sister accepts him as a sibling.

In the meantime my long long time mate, the modded Infinity Reference bookshelves have been taken by a good friend and an avid music listener and a hardcore Illayaraja fan. I hope they fulfil his music listening desire as they did for me for many years.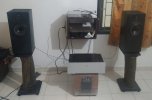 Here are a couple videos of the Presonus the day i got them home.
The picture shows my nephew listening to them, placed in horizontal fashion.


Couple videos
This one is using Carvaan of Saragama as source
And this one has is for posterity. My new baby Nandu (aka Nand Kishore)
.
​
Last edited: