Joined

Jul 25, 2006
Messages

449
Points

43
Location
Hi! We are happy to announce that many of our brands have won numerous awards:
1. Isoacoustics Gaia :
#GAIA has been named one of @audiophilia's Products Of The Year 2020!
IsoAcoustics is on demo at Absolute Phase. Exclusive India Distributor
"IsoAcoustics/The Gaia Series comes in three sizes from smallest to largest: Gaia III (for speakers weighing 70 lbs or less), Gaia II (for speakers weighing 120 lbs or less), and Gaia I per 4-pack (for speakers weighing 220 lbs or less)."
#isoacoustics #isoacousticsgaia #hifispeakers #homeaudio #hifiaccessories #instahifi #audiophile #highendaudio #stereo #homestereo

.
@IsoAcoustics
GAIA II/III isolators for floor standing speakers and subwoofers featured in
#DarkoAudio
Product/s of the Year 2020
#hifi
#audio
https://youtube.com/watch?v=9tGKRI1Nflk&ab_channel=JohnDarko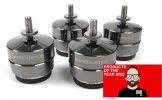 2. AirTight ATM-300R:
We at Absolute Phase are very excited to learn that our AIRTIGHT ATM-300R Power Amplifier has been named as "Tube Power Amplifier of the year"
Thank you very much The Absolute Sound for this honourable award
AIR TIGHT is on demo at Absolute Phase (Exclusive India Distributor)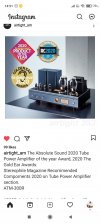 3. Conrad Johnson ART27A: We're pleased to note that in their 2020 awards, HiFi+ has named the conrad-johnson ART27A "Power Amplifier of the Year" (HiFi+ issue #190). The commendation write up will be posted to our web site soon.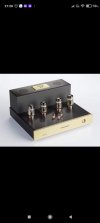 4. DS-Audio: DS Master 1 received the "Cartridge of the year award" from the absolute sound magazine! DS-Audio Is on demo at Absolute Phase (Exclusive India Distributor)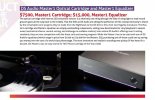 5. AVID Reference Ruby MC Cartridge:

6.
DeVore's Orangutan 96 loudspeaker first to join exclusive Ten concept from Absolute Sounds
www.stereonet.co.uk
DeVore Fidelity is on demo at Absolute Phase. (Exclusive India Distributor). Come and hear this wonderful O/96 loudspeaker at Absolute Phase.
A big congratulations to John DeVore of DeVore Fidelity O/96 First to Join Ten
Double news as selected DeVore loudspeakers are easier available in the UK and become the first in a carefully curated catalog.
Absolute Sounds today announced that it has launched a curated collection of "singular sonic artistry" offered by independent makers. Furthermore, this cluster of the crème de la crème starts with DeVore's O/96 loudspeakers.


7: PrimaLuna:
For sure, the year 2020 can go into the books as one of the worst ever.
But it also has given us, like every other year, some Diamonds in the Sky.
Maybe being Awarded for an Amplifier is not the most important in life, but …
We are Extremely Proud to have received from
Hi-Fi World Magazine UK

The Best Valve Amplifier Award of the Year!
for our
PrimaLuna EVO 400 Integrated Tube Amplifier
.

8: Karan Acoustics: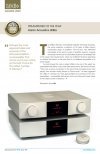 9. Audio Analogue AADac:
Part of the Italian company's stripped-down AA line, which is all about simplicity of design, this compact DAC offers more features than initially meet the eye Italian manufacturer Audio Analogue's 'PureAA' line was spun out of the 20th anniversary models the company launched back in 2016. The...
www.hifinews.com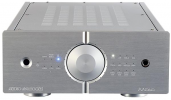 All these above brands are officially imported and distributed by Absolute Phase (Exclusive India Distributor)