Joined

Sep 25, 2020
Messages

990
Points

93
Location
Around 6-8 months back my friend had come home and liked my HT setup. He casually told his uncle has a old amplifier which he is not using and you can take it, I told him to share pictures.
Thought of taking it and keeping at my farmhouse and get some super cheap used speakers to pair with it.
Last week he sent me the pictures, and it was a NAD 320BEE!! I checked on the Internet and researched a bit, called him and asked is his uncle really giving it away and he said yes, I told him I am collecting it this week.
NAD 320BEE has Pre Outs and Trigger inputs and Outputs. Can be used as Pre Amp or an integrated amplifier. These are the specs.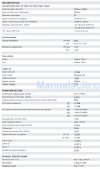 Got it home this week, I did not know will it work or not as it was lying unused. Opened it, vaccumed, cleaned whatever I could, heck I even polished it to look good. End result was satisfying, now was the main test! Will it work?






Did not want to use it on my new speakers, was skeptical so removed the puny miccas from height channels and tested.
First thing after turning it on, no lights for the inputs. I thought all of my happiness is gone, read online and found you need to select the input everytime you power it on. Voala, it started playing through aux and Activo CT10. Tested bass treble balance, even the tone defeat button worked.
Now wanted to test the pre outs, it was connected to the crowns and Q Accoustics 3050i. Wow, it sounded very good, slightly warm, highs are not sparkly but has a good signature to it. I thought the NAD and Crown combination would be bad. But sounded very nice.
Using as pre amp now, connected to Crown XLS.
Now Denon, NAD & Tube pre Amp all connected to Crown XLS via switch box.
Few questions, I have from FMs.
1) What does Mains Out do? It is next to pre outs.
2) Would I be able to get spare parts, was thinking to replace as much parts I can. And where can I get them in Mumbai?
3) Should I keep it or send it to my farmhouse?
4) I hear slight noise which is creeping in on the NAD only when no inputs are connected, as soon as I connect to the Activo C10 noise disappears, why could it be? How to remove it.
Last edited: