Hi all
im posting on the forum after really long ( probably my mind was "locked down "
Anyway the 1st lockdown gave me time to think about a new series based on Aluminum extruded columns which are internally braced and divided into seperate compartments ( one for sand filling and the smaller one for cable mgt )
This was inspired by a dynaudio stand i setup at a clients home
we designed an oval extrusion - 4.5 mm thick (which is twice that of the one it was inspired from )
The idea was simplicity and a minimalist look
The oval was then split 3/4th and 1/4 th for the above mentioned reasons
we used this column in the entire series
ONYX
TOPAZ
GARNET
models
the
TOPAZ
was inspired by the dynaudio stand 10
Designed to match Dynaudio's range of compact loudspeakers from the Emit M10 to the Excite X18.
www.dynaudio.com
however we expanded the top plate to 8 by 10 inch instead of the 6 by 7 offered by them
We also doubled the weight from 3.2kg in the original to 7.0 kg in the topaz
A change was made in the column though we picked an oval rather than a trapezium


The
GARNET
speaker stand
was inspired by dynaudios top end stand - the stand 6
Stand 6 is the perfect foundation for high performance compact loudspeakers like Dynaudio's Confidence C1 and Contour 20 loudspeaker models. Buy on website.
www.dynaudio.com
these featured 3 layer CLD sandwich top and bottom plates
an enlarged top plate to match the base and also useful for those speaker that curve towards the rear
again here we enlarged the top plate to suit most speakers and Also doubled the weight as compared to the Dynes

The last from the series was the ONYX with a more simplistic and milimalist design
Pictures Courtesy a fellow member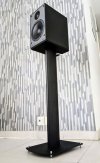 We realised that most have tiles floors and hence spike feet became standard in this series
Hope you guys continue to like our work
we continue to be inspired and encouraged from this forum