An unexpected thing happened (good one).
I was never truly happened with my setup. My chain has over the years undergone lot of permutations and combinations. Being a DIYer have tried plethora of options. Sometimes they improved, sometime they didn't. The most recent improvement was gettinng depth which is recounted
here
. I always had a good sound stage but getting depth was elusive. But with the help of forum members I did achieve that.
Few things about my setup
AMP, speaker etc.
1) Have an age old Yamaha RX-667 receiver (110 w each channel) which is the one I use for most of my music listening. It is enjoyable and I have to make the least effort to play music This is connected to Polk Rti A9, polk Fxi A6 surround speakers and polk Csi A6 center channel. The cables are standard 12AWG cables
2) Have a tube amp connected to electrostatic pair. Playing music on this is a PITA. I have to remove the cover which protects the electrostats from dust. Wait few seconds for the tube to warm up and it is 20 watts. On few occasions when few drops of CH3COOH has gone down, the power isn't enough. The electrostat are connected using van del hul revolution speaker cable.
3) A DIY Mauro Penasa amp 40+40 watts. This is good, But i have a small heat sink and this amp gets very hot. So this build is waiting for a good sink.
4) Allo volt+ Class D amp (60 + 60) watts. Depending on some whim or fancy, I use this instead of my valve amp to play 2 channel music
To use 3 and 4, I have to manually change the speaker cable connections.
Sources
The most commonly used source is my Allo Piano 2.1 DAC. This I2S dac has DSP and allows me to channel low frequency separately to my subwoofer. This is quite good and musical. The allo Piano DAC is connected to a Allo reclocker which has very accurate clock from two NDK crystals. The Kali Hat is connected to a RPI4 running my own custom Raspian and does everything that moode, volumio, picore, etc can do and does it better because it is running 64 bit OS and 64 bit kernel instead of 32 bit rest like dietpi, volumio, moode, etc are running. Also this doesn't run any web server, etc to give a user friendly UI. I use standard linux, IOS, android clients for mpd on external devices. No client software runs on the RPI. So the entire power of this raspberry PI goes only towards Music. A 4 Tb hard drive with ext4 filesystem is connected to this RPI4 on USB3.0. This RPI4 also runs NFSV4 server.
The other dac which I use is Allo Revolution DAC connected to allo usbridge. The allo uisbridge also runs my own custom raspbian OS and automounts the hard disk of the RPI4 using autofs.
The RPI4 as well as the usbridge run mpd (I have LMS, raspotify, airplay too, but they are not used often).
Both Piano DAC and revolution dac output goes to a DIY Pass B1 buffer preamp, which has a selector switch to select one of 5 inputs. The output of this B1 goes to another self made preamp using
Rod Elliot's Preamp
. I have a 4 pole selector switch and I can use this switch to direct the output to my AVR, Tube AMP, Mauro Penasa amp or the Allo AMP.
A 2012 mac mini hacked to run Big Sur so that I can run apple music and consume my apple music subscription. The sound from this setup is just meh.. So I have connected my oldest DAC to the mac mini. This is the Xonar Essence Dac. The outpt of this DAC also goes to one of the input of the Pass B1 buffer.. When I want to listen to something that I don't have in my hard disk collection, I use this. The USB input of this dac is connected to a 2 port printer switch. This allows me to share the DAC with two computers. The other computer is a HTPC running openSUSE Tumbleweed and Kodi for primarily movies.
A technics SL-D2 connected to project phono stage, output of which goes to the Pass B1 buffer.
All sources are connected using self made cables using cat6 twisted pairs cannibalized from broken ethernet cables. I have found them to be giving better sound than all commercial cables in the higher frequencies. These cables have very low capacitance.
Graphic Equalizer
Two days back I received this graphic equalizer which was pre-owned by
@aeroash
listend in the sales section. I had noticed that this has TRS as well as balanced inputs and output. Now only my Xonar Essence has Balanced out. So I connected output of the Xonar to the graphic equalizer and output of the graphic equalizer to the Pass B1 input.
Switched on the mac mini and started playing some Dub genre music. Holy smoke. I was startled. I confirmed that the equalizer controls were all in flat mid position. The only thing was that I had turned on the input gain control to full. It also has ±12 dB buttons for extra gain. But I kept that off. Apple music never had sounded this good. I removed the equalizer and I again got the anemic sound. It left me wondering if the balanced out of the Xonar DAC had caused this effect. Then I connected the equalizer but turned on and off the ±12 dB input gain switch. Regardless of the gain switch I got a stellar performance.
Today morning I took out my soldering iron and made two TRS to RCA cables, so that I could connect the equalizer for each and every music source. And the astounding performance now is heard for all music sources.
The thing is that I'm getting amazing dynamics without actually boosting or bucking any of the frequencies. Can a extra gain from preamp cause so much difference? Also I'm enjoying it with AVR. Tomorrow I will try with my two channel setup, but the sound from the AVR is too good for my ears. Is AVR good for music. In my case I'm loving it. Tomorrow may be another day. Let's see.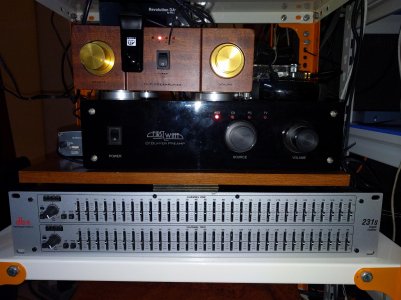 Last edited: