Today I did some changes. I fitted a R-Core trafo, Regulated DC supply board + 47k volume control + Pass B1 in the cabinet for passive preamp. Converted the input selector board to output selector board (by just interchanging input and output).
Fitted the Rod Elliot's Preamp board with built in LM317, LM337 power supply and a 12-0-12 torroidal trafo and a 4 pole double throw switch to bypass the preamp.
Earlier it was like this
Pass B1 with volume control + input selector --> DBX --> Rod Elliot's Preamp + output selector --> AMP
Now it is like this
input selector + Rod Elliot's preamp with preamp bypass switch --> DBX --> 47K volume control --> Pass B1 --> output selector switch --> AMP.
I also followed the grounding scheme suggested by Rod Elliot, which is lifting the ground using a 10 ohms resistor and a ceramic capacitor and a high current bridge rectifier
https://sound-au.com/earthing.htm
. Also followed star grounding for all my devices. Absolutely no hum.
Volume control + Pass B1 + output selector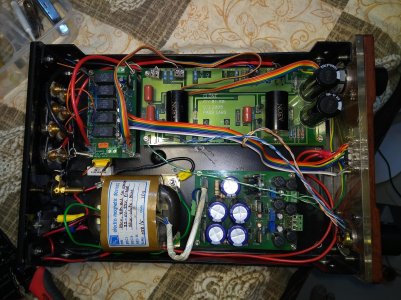 Back panel of the above. The input is actually output and the 3 inputs are actually output to 3 different amps. This cabinet was made by the earlier diyaudiocracts when it was run by our forum member Bibin.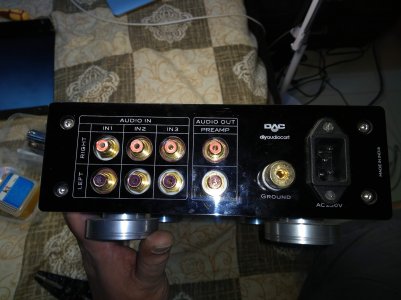 Rod Elliot's Preamp with input selector and preamp bypass switch. This cabinet was also done by Bibin from diyaudiocrafts.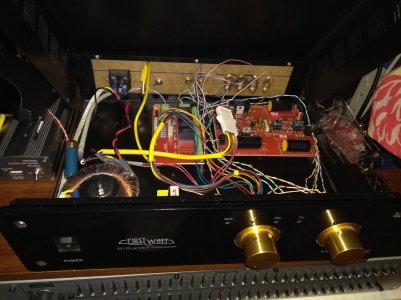 Final image. In the process of soldering I accidentally blew hot air from my smd rework station on a new bedsheet. My bed is my usual workbench. I have been banned from using the bedroom for DIY activities. A raspberry PI with Kali reclocker and a I2S dac with low pass out is source1. The allo revolution dac connected to usbridge is source2. Souce 3 is output from another 12 source electronic switch to which I have connected things like chromecast audio, airport express, cd player out, etc. Source 4 is output from turntable preamp.
Plan for next week is to tidy up the wiring by putting them inside sleeves and holding the sleves to the cabinet body.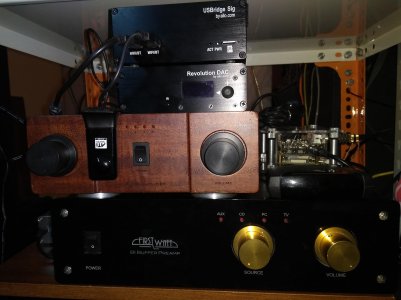 Last edited: