Joined

Sep 17, 2010
Messages

1,306
Points

83
Location
Hi..I had posted on a similar topic few years back and am still wondering what to do with my old Yamaha AVR given new AVR prices are still above what they should be.
So here is my case:
(a) I Have an Old Yamaha receiver bought from UK in 2005. Was used as my primary AVR for many years till I got my Pioneer 1020K in 2010 as it had HDMI and my Yamaha did not
(b) Every since its being lying idle and have given it to my nephews and hence not able to test on what is my question below.
(c) There are two primary sources of AV. Tata Sky HD box - old one, not the Binge one. Plus a Desktop.
Below is my TV model. On the left you will see all the ports on the TV
Here is my question. Assuming my Yamaha has an Toslink port. Can I do the following:
(a) Using two HDMI inputs of my TV, I Connect Tata Sky and HTPC
(b) Per diagram from the Amazon site above -the TV has a Toslink slot. Not sure if Toslink is unidirection or bidirectional. Say I connect TVs Toslink to Yamahas Toslink
(c) So if I change the input on my TV between Tata Sky and HTPC - Will the TV using the Toslink output the Sound for each of these inputs to Yamaha and there by I can use a 5.1 Audio setup?
Second option is the following. I am at office and need to check if one of the HDMI is an HDMI out - I am assuming this means ARC.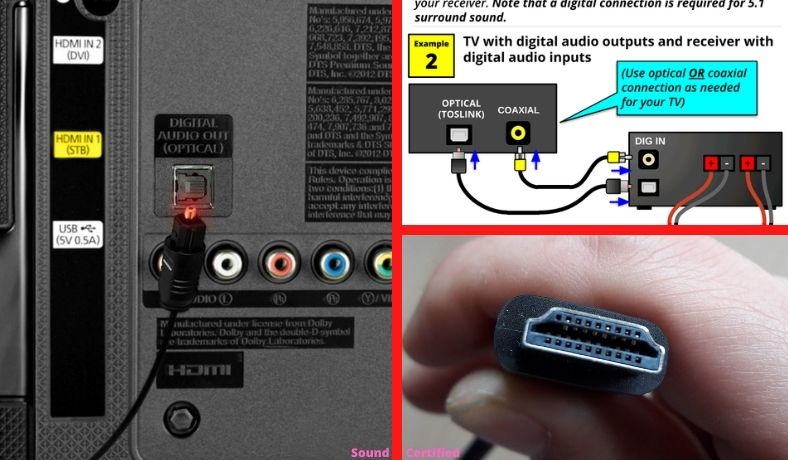 Want great TV or cable box sound from your audio system, but your receiver doesn't have an HDMI port? Great news – there are other ways to do it. In this article you'll find a ton of great info: The…
soundcertified.com
See this Website. It has a diagram in the middle of the page where HDMI out from TV is going into an HDMI Audio Extractor from which either a Toslink or RCA is giving audio to AVR...Would prefer Toslink as it will give 5.1
Any other suggestion where in I can utilize my Yamaha AVR to output 5.1 sound would be welcome. Basically this setup is for my mother and hence we are not really looking at great audio. I am guessing any audio via AVR is better than the TVs audio. Plus I got this Yamaha lying unused. Then I got 5 speakers lying unused. Hence good to have some ideas on how to combine those two and have my mom listen audio at 5.1.
I have my neigbour in USA right now and she wont mind getting any small gadget available only there or too cheaply to help me in this regard as long its cheap and small in size.
Many thanks in advance for your help!!