Hi
I had sold off my Denon receiver last year as I was planning to get one that supports 4k from the US. However, due to Covid it didn't happen last year and is unlikely in 2021. I am a neophyte in sound but I did enjoy watching movies and tv series on my modest ht setup.
I have a set of Boston Acoustics SoundWareXS5.1B 5.1 Speaker System (Black) speakers.
My requirement is 90-95% movies and maybe an hour of music once in a month or 2.
Source material: Amazon firestick, VU 65ut TV apps 4k streaming, HTPC NUC 4k Blurays (50-80gb), PS4 pro, some football via hotstar, seldom use my airtel stb
I am looking for a simple AV receiver to revive my HT setup. Please provide some suggestions. I got the last receiver at about 22k from the US lasted 5+ years and was just awesome. Not sure about what budget should I set, please guide me. If there are any options that have an extended warranty, will be happy to invest in that.
Some other info:
- I plan to use the same set of speakers and don't intend to upgrade them unless they fail or you tell me if it is absolutely vital
- I will have the speakers set up in a 5.1 array in my living room
- The living room is quite open, below is the floor plan of my current flat where this is going to be setup
- Unfortunately, in the current society, even though there is full power backup, the power cycles (on-off, it goes for about 2 minutes before the generator kicks in) quite a lot. I don't have an inverter but currently have APC ups for my tv/ps4 etc. How much will I need to spend on the UPS solution for the speaker+AVR setup?
- I have the wires in the speakers from my last HT setup so can use them to set it up
Pls let me know if you need any other details. I am in Bangalore.
I mostly intend to buy this from hifimart based on FMs reviews. Quite averse to reaching out to dealers offline but can do it if needed, for my love of money
Floor plan: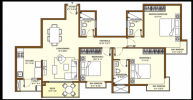 Last edited: