Joined

Dec 10, 2016
Messages

37
Points

33
Location
Hello,
On " World Radio day 13th February 2021" I opened my small radio museum. " Short Wave Radio Museum and Knowledge Centre", dedicated to my Guru, Sri Pandu Rajan, The museum inaugurated by Sri Sri HH Padmanabha Varma of Travancore Royal Family. He is a keen fan of Radios. He is another force behind me to open the museum,
This is with 110 radios, catalogued, restored and has another 60+ radios, which are in the restoration process, Radios from 1928 to 1970, unique radios are displayed. Most of the radios are with large wooden cabinet and are restored with original components bought from Holland, USA, Australia. Rare radios like Pilot G774B a tombstone 1934, HMV 655 - 1934-35 set with chain tuning, Phillips BX998A a giant radio, and Westinghouse, Grundig, RCA, Pilot UK, Bush London, PYE London, Phillips Holland, Mullard UK, HMV, most of the radios are of 1934 - 1945. British Army radios of 1940, army communication boards and so many valuable and rare items. Also Philips India, National Ekco, Telerad, Bush India, and many more.
Redesigned museum and restoration workshop, gives a great feeling to study hard on the radios. Complete with wood working for cabinets, painting, the workshop will expand later.
Few pictures, as I could not post the same earlier, -
PEACE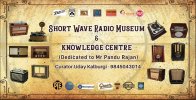 .