Joined

Oct 29, 2012
Messages

873
Points

63
Location
I have been looking around for resources to find out what would be most optimal positions in various scenarios to place the Mic. while running Audyssey and to my surprise I could not find a very satisfactory answer. I want to start this thread to learn about what Mic. positions do the members use while running Audyssey in their setup?
I am sure the standard Audyssey guide to place Mic doesn't give best results to me at least.
I have a 2 seater Recliner with a space in center as Remote Box, Left Seat is where I sit and I consider it as the main listening position (MLP). My AVR has MultQT 32 and I use 8 positions to run the setup.
This is how I keep 8 positions, I ensure that Mic is kept at ear level
1 : Center of the Remote Box (its the center of left and right seats)
2 : About 10 inch away from the backrest of Left Seat (MLP), centered
3 : About 10 inch away from the backrest of Right Seat, centered
4 : About 6 inches forward from Position 1
5. About 6 inches to left of Position 2 (I lean my head there)
6. About 6 inches right to Position 3
7. Back of Recliner towards right corner of the Left seat
8. Back of Recliner towards left corner of Right Seat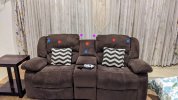 I hope I haven't confused much
After many experiments with Mic positions, I haven't been able to find optimal positions.
Sometimes the bass go a lot ineffective to MLP!
Please do share the positions that have worked best in your scenario.