Joined

Mar 13, 2019
Messages

1,200
Points

113
Location
Hi FMs
I need your help in making a rack myself, I got some quotes for some racks and they are quite expensive and not easy to ship as well, so though of now doing it myself.
I have currently no clue what all options are available in the market. I am interested to have wooden shelves around 1.5 to 2 inches in thickness. The problem I am facing with the wood is that its hard to get seasoned wood at my place. I inquired about Sheesham/Teak but thats not seasoned. Do you know where I can get seasoned wood plankes? or whats the replacement for that? I want to avoid the ply board and veeners.
I am ok to have thread rods as supports, but again not sure where they are available, or have to be custom made in workshop. I have something like the below rack in my mind but not that wide. The pure thread rods are bit rustic/industrial looking, are there any coverings/housing for the rods? I would be very grateful to you if any one could guide me on how to start on this.
To summarise, I am looking for advice on the following (What/Where to buy)
1. Shelf material
2. Support rods/covers/housing for rods
3. Feet/spikes
4. Wheels may be
Reference image
(shared by a FM)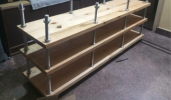 My Requirement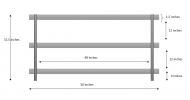 Thanks
Vivek
Last edited: