Joined

Oct 28, 2020
Messages

628
Points

93
Location
I wonder if you have ever tried the wire I suggested on HFV this year?
I feel it is worthy of a trial, a good listen.
It is m22759/11/12 which is
copper multi stranded
, with
each strand silver plated,
wrapped inside a teflon outer jacket. This is military-quality and specified wire.
The bare
minimum for conductivity
to a speaker is a
single
12 AWG run ( ..... the " /12 " in the above designation ).
Double
12 AWG ( per polarity ) is guite a bit better as far as
less transfer loss of energy,
.............which would be 12AWG + 12 AWG ......per polarity.
Do you realize what this 12 plus 12 does ? Double 12 AWG gives excellent BASS ENERGY coupling -amp to speaker, but the individual SILVER plating of each copper strand, still maintains the HIGHS in a
balanced
to the music manner. ( A decent all around compromise. )
My favorite
sounding amount of speaker lead wire to use is a
trio
of m22759/11, as in 12+12+14 AWG.
It provides the
most coupling
( amp to speaker ) and the 14 AWG , gives the benefits of a " smaller AWG wire's "
inherently
better high end. This configuration thus becomes 12+12+14............ PER Speaker Polarity.
Lightly twist all three AWGs into a single polarity. I use copper spade lug terminations. I find banana plugs are too lossy, they play music somewhat non-linearly, and are a bit frequency selective.
- - - - - - - - - - - - - - - - - - - - - - - - - - - - - - - -- - - - - - - - - - - - - - - - BELOW is OPTIONAL :
Optionally, and only if your system approaches ultra-hi-fi in performance :


never allowing the two bundled polarities to touch each other ( even one time ),
in their journey from amp to speaker, will REDUCE capacitance, and your
playback of music
will exhibit a better, more natural and easy-to-hear - more OPEN SOUNDING high end.
Also
very much optionally
, my favorite amp-to-speaker wire length to use is 114 1/4 inches, with 57 1/8th inches being a second favorite length. This distance information was determined in the 1970s, confirmed in the 2020s.
My only request, if anyone makes up such leads and tries this out,
tell us all
on HFV
your listening results
on MUSIC.
I buy my m22759/11 wire from eBay, and very good is "Steve" at Apex Junior in price ....$0.50 a foot for 12 AWG !!!! This is very HIGH QUALITY MADE wire !!!! Listen to some.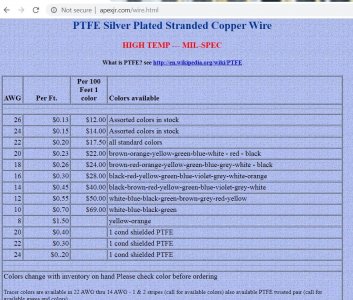 Last edited by a moderator: