The foam portion of one side of my Sony MDR XB 450 headphones got separated from the driver portion. The question is what glue to use i.e normal crafts fevicol, rubber solution etc.
As can be seen,from the pictures,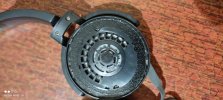 the foam side has a circular acrylic sheet(or plastic) which is inserted within the fold of the net covering the foam. It appears that I have to apply glue to both the acrylic sheet and net. The driver side is plastic enclosure. So basically it is plastic to acrylic or plastic bonding.