I started my serious cable hunt from 2012 when initially thought that wires dont' matter. Now after 10 years of tinkering around, for me wires are the most important component of my setup. I have tried a plethora of permutations and combinations of conductors, dielectrics, geometry, connectors to arrive at my first final IC cable. It took me close to 10 years and almost a quarter of a grand to achieve this.
I am glad to announce that my first IC cables are going to a FM
@srijith
who stays at Thane. He had visited some around 6 months ago with is AQ green IC cables for a comparison with my then time aligned IC. The DIY cables sounded much better than the AQ in both transparency and details which were quite neutral. He immediately requested me to build one pair for him without any second thought. But i still had not completed my learning and thought they could be bettered. I used this 6 months to try some more materials and after completion of my testing assembled a final IC cable which i though he would like in his setup too.
These are 1/2 Fulton length cables and they use gold plated connectors. They have air and silicon fiber as dielectrics. The conductors are made out of 6 metals in different awg size to arrive at a final awg size of 20awg which imo should be quite reasonable. The measured capacitance of the pair are 19pF and 22pF (yes you are reading them right). I have connected this cable to my setup and am listening past 2 hrs. I am liking what i am listening and this particular cable has less shine compared to my own cable because of the changes in the awg size of the conductors ( i persume). These sound very neutral without any over or under emphasis of any paricular frequency. Srijith will be picking this cable from me tomorrow and he shall break-in them at his setup. May be after 2 weeks we can get an listening impression from him.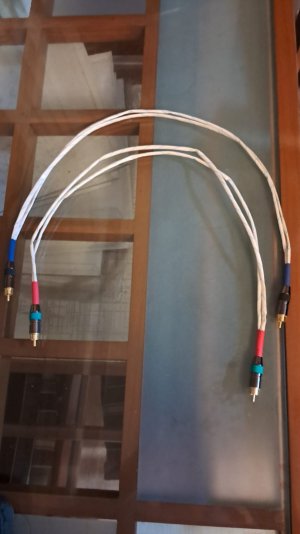 Thanks for looking.
Last edited by a moderator: