Joined

Mar 13, 2022
Messages

675
Points

93
Location
I completed my two ACA kits and put them into service. Move aside Elekit TU-8200. For me they seem wonderful in bridged mono mode driving my Klipsch Heresy IIIs. A lot more clarity.
I had expected my daughter with super sensitive ears to scream when I played music but Klipsch seem to be tame with these amps. No horn shout or fatigue.
Set them up on my rack and rewired the system. CDP + Tape + DAC > Elekit TU8500 preamp > 2 x ACA Bridged Mono > Klipsch Heresy IIIs is the chain.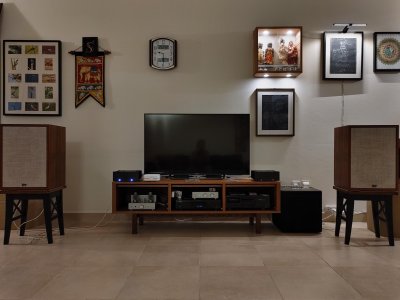 Now
@rajan-
had asked me how ACAs performed when used with Elekit TU 8500 preamp. I had to compare with something. Since there is no volume control, CDP could not be connected direct to ACAs. So used the headphone out of CDP to connect to ACAs with the HP level control acting as volume control. Played the same song (Lucky Ali - Tere Mere Sath mein hotha hai) in both setups and did a crude measurement of the spectrum on my mobile app SPL meter. See below screenshots.
The same song played in both cases for nearly the same time at about the same average level and SPL meter set to measure the spectrum for the same time in both cases. NOTE THE PEAK LEVELS recorded for each Octave. This app indicates the peak hold. My thinking is the peak measured for the same song playing at about the same level over the same time period should
give an indication
of the system performance.
It is not calibrated or a much sophisticated measurement so please take it only as a rough guidance to the performance. If there is a more accurate but economical way of measurement please advice.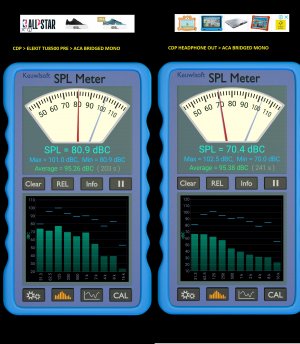 With Elekit TU-8500 driving the ACAs you may note the whole spectrum is a couple of dB roughly lower (Y axis major divisions could be seen on zooming in) the direct from CDP.
For the ears direct from CDP seemed a bit more clear but also a little sharp. Through the preamp it was sweeter and relaxed. Imaging is neck to neck but Elekit has an edge.
Hope this helps.