Today I finished another project. I made total 3 Pairs of Enclosures for one of our Forum Member
@kartikay
. These enclosures are called "KAIROS". They are designed by the Legend itself Late Mr. Jeff Bagby (RIP). I have made only the enclosures & had only 1 Woofer and tweeter to check the fitment so I was unable to play them at my end.
I will not be writing much about it as everything can be found on this link
Kairos
Sharing some photos of built journey. All cutting is done on CNC router.

The degree cutting is done by circular hand saw.

Assembling the pieces with clamps. Since the day i started to use clamps I have never used nails or screws in my built to join the 2 pieces of wood / mdf / ply.

After Assembly



This is why drivers are needed. I made the tweeter cutout with reference to the dimensions provided. But it turned out little different so i have to make anotrer 2 slots for tweeter fitment. The correction done can be seen in below image. (Divers were received after assembly of enclosures)

In below photo the enclosures seen are sprayed with primer and are ready for final paint. Before Primer, the first coat done was with sanding sealer. (In my earlier threads i have mentioned my paint process so i wont mention it again in this thread)

The Below enclosures are sprayed with final paint and are ready for polishing.

The Final Outcome.

As I said i just had Single driver so ........




i tried to capture the metallic shine of paint but donno if below photo is making justice for same.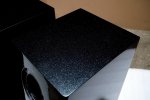 Back Side.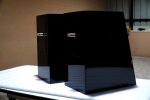 Hope you all enjoyed reading & looking this thread.