Joined

Oct 16, 2013
Messages

119
Points

28
Location
Hello everyone,
This is Bharadwaj from Vijayawada, AP. I have been an avid follower of HiFi Vision and gained a lot of knowledge from this forum.
My current HT setup is a Media PC + Boston Acoustics Soundware XS 5.1 + Denon AVR X500 in a spare room.
Though a dedicated HT room bug bit my mind 8 years back I couldn't really give it a serious go owing to various reasons. Finally I took the plunge and planning to build it by May 2022.
Intention of starting this thread is to seek inputs from all the experts here and do a proper planning before I initiate the project. We will take this in a phased manner.
Phase - 1: Room Construction:
I'm planning to build a room on the terrace from the scratch and as per my knowledge I have decided to go by these measurements 24 X 16 X 10 feet.
Now, my first question is, are these measurements supposed to be from wall to wall (inner surface) or after building the drywall?
Also, which bricks are ideal for wall? AAC blocks or clay bricks?
This is the rough depiction of my plan. Please suggest if any changes are needed.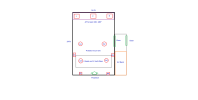 Last edited: